Pyhämaa kk beach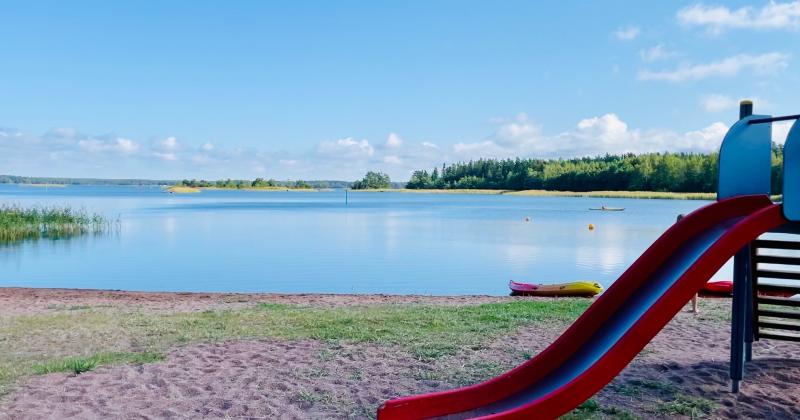 Address
Pyhämaanranta 37
23930 Pyhämaa
Finland
Arrival
Parking: There is no parking area as such, but there is enough space to park in the surrounding area.

Driving instructions From Pyhärantatie (no. 196), turn onto Pyhämaantie (no. 1973). Drive about 10.9 km. Turn right onto Pyhämaanraitti. Drive about 300 metres. Turn right onto Pyhämaanranta. Drive about 60 metres. Turn left. Drive about 100 metres. Turn right. Drive about 90 metres. Turn left. Drive about 120 metres until you reach an old outbuilding by Pyhämaan kk beach. The distance to the beach is about 30 metres.
Technical data and equipment
Ranta-alueella grillikatos, lentopallokenttä ja venesataman satamarakennus.
Rakennuksessa kahvio ja wc-tilat.
Description of the beach: 
Coastal. A small sandy beach popular with families with small children, with changing facilities, benches and play structures for children.
There is also a swimming raft in the water opposite the beach.
The beach includes a barbecue shelter, a volleyball court and a harbour building, where you can find a café and toilets.
There is a landing stage close to the beach, which creates some water traffic.
Characteristics and quality of the seafloor: Soft sand and clay base that deepens rather quickly.